FAQs & Mattress Selection Guide
Mattress Selection Guide
You could be ready for a new sleep set if...
You don't sleep well
Your back aches
You feel tired in the morning
Your muscles hurt
You feel drained and suffer from lack of energy
You and your partner have no room to move
And you should get a new sleep set if...
Mattress is lumpy and uneven
Mattress or edges sag
Your foundation appears uneven or sagging
Your mattress cover is torn, stained or soiled
Compare leading brands, look for real value
Basic economics tells us that value is not necessarily the cheapest price...it's WHAT YOU GET for the price. There's a certain amount of truth to the old adage, "you get what you pay for." So, invest in yourself. Buy a quality sleep set and get the best night's sleep you can. You deserve it.
A quality sleep system is your best investment
When you look for a new sleep set, remember it's what you can't see that counts. "On sale" specials may look like bargains, but how well do they support you? How long will they last? A premium quality sleep set from Therapedic is designed and engineered to provide you with proper support and comfort for many, many years.
Therapedic® is your best premium bedding value
Therapedic's advanced mattress design and engineering have been awarded numerous patents, both here and abroad, for the leading-edge mattress components we have developed over the last fifty years. We challenge you to compare our unique product features with those of any other mattress brand. The short of it is this: Therapedic means quality and value that you can believe in.
Why buy a system?
Your boxspring foundation absorbs about 40% of the wear and tear on your sleep set. Only a total sleep system assures proper, healthful support. Get the set!
Which size is right for you?
Remember...you spend one third of your life in bed. More individual sleeping surface means a better night's sleep. Sleep the modern way, on a spacious queen or king size.
FAQs
How should I shop for a new mattress?
Buying a mattress is a personal and subjective purchase as well as a long-term investment. Like buying a car, there is really no one size fits all solution. You really have to consider or test a variety of models and talk to a lot of people before you can narrow down your choices.
To properly test a mattress before purchasing:
Begin by wearing comfortable clothes, and shoes that can easily be removed when lying down on a bed.
Take your time and let the salesperson know if you are not yet ready for assistance.
Don't feel reluctant about actually lying down on several beds. It's hard to gauge the support and comfort of a bed by simply sitting on the edge or lying down for just a few, quick seconds.
Determine the comfort level you prefer — plush to firm.
Then, try that comfort preference in three different levels of quality – top of the line, mid-range, and lower range.
Lie on the mattress in the position you generally sleep at home (side, back, stomach).
Since each sleeper has unique needs and comfort preferences, take your partner with you in order to find a mattress that works for both of you.
Shop at a store you trust. If you feel uncertain about the information you are receiving, there are plenty of other sleep shops to visit before making a final decision.
Ask questions – don't be shy!
And, remember, this is a long-term investment, so don't allow price to be your only guide. You are buying a comfortable night's sleep, not simply a bed.
What is the difference between comfort and support?
Support comes from the base or inner core of the mattress. It may be firmer or more yielding depending on the construction.
Comfort is more a factor of the layers above the core – foam, padding, memory foam, specialty foams, and/or latex – each creating a different comfort level and the most subjective and personal element of the buying decision.
Must I replace the box spring or foundation when purchasing a new mattress?
The foundation should be considered an integral part of the sleep set. Your Therapedic mattress and matching foundation have been engineered to work in concert to provide the finest sleep system available. For optimum performance, it is recommended that they be purchased as a set. Using an old foundation under a new mattress could diminish the ultimate comfort and support you feel. Remember, when you are testing mattresses, you are testing them on a new, companion foundation. Putting the same new mattress on an old foundation could lead to a different level of comfort and support than that which you felt in the store.
How much should I spend on a new sleep set?
Mattress prices range greatly, from about $300 to over $5,000 for a queen set. A good night's sleep is one of the best investments you can make, so buy the highest-quality mattress you can afford. Most of us spend as much as one-third of our time in bed. A Therapedic premium quality sleep set is designed and engineered to provide you with the kind of proper support and comfort your body needs for a deep, restful sleep. And, it will do so for years and years. If you divide the cost of the new sleep set over a seven year period, you will realize you are making an investment in your overall wellness that costs you just pennies per night. Who isn't willing to pay just pennies a night for a great night's sleep?!
Where can I find Therapedic® products?
Therapedic mattresses can be found in many retail stores across the United States and internationally. We want to guide you to the most conveniently located dealer. The best source of this information is the factory that manufactures and distributes our products in your area. Please use our manufacturing location locator on https://www.therapedic.com/contact-us/ to identify that factory and the necessary contact information.
When it comes to completing the comfort of your sleep environment, our Therapedic Bedding products are sold exclusively at Bed Bath & Beyond stores or online at Bed Bath & Beyond.
There you can find everything to further enhance your sleep experience including pillows, mattress pads, and mattress toppers.
Why does my mattress feel different than I expected it to?
This is a common observation – don't worry. It could take up to two weeks of continued usage for the new sleep surface to conform to your body. Also, it takes that much time for your body to respond and get comfortable to the support provided by the new sleep set.
How many years should my mattress last?
The Better Sleep Council recommends purchasing the highest-quality sleep set one can afford and replacing your mattress about every 7 years. The life of a mattress varies depending on a number of factors including how you take care of it, whether you sleep over the entire surface to prevent body impressions, and how often you rotate it.
To help prolong the life of your mattress, always use a mattress protector and rotate it regularly to reduce body impressions.
How do I register my new mattress?
What is covered by my mattress warranty?
A mattress warranty is not the same as the expected or useful life of the mattress. The warranty covers manufacturer's workmanship and materials. Just like with a car, it is possible and realistic to notice wear and tear before you reach the end of the warranty. And, be aware that the warranty is not a forecast of the mattress' useful life.
The mattress and/or foundation warranty may vary depending on the product you purchased. To determine the warranty term for your specific product, refer to the code shown on the law tag affixed to your Therapedic mattress. Consult the Limited Warranty Guide, which came with your new Therapedic mattress, for terms and conditions.
How do I submit a warranty claim?
What can I do to improve my sleep experience?
The sleep set is literally the foundation of your sleep. Investing in a quality sleep set is the first step in improving your sleep experience. But, beyond your investment in the mattress, it's important to make an overall commitment to sleep.
What can I do with my old mattress?
Most bedding retail stores will assist with the disposal of old bedding as a value-added store service. Ask about this type of service before you purchase.
What kind of support/frame is necessary for bedding today?
Use a sturdy bed frame. If your mattress is a queen or king set, make sure that your frame has the extra center support and two additional center legs needed to prevent bowing and sagging. This is required to ensure complete warranty protection for your sleep set. Shown below are examples of proper bed frames for queen- and king-size bedding.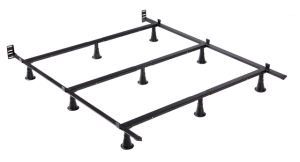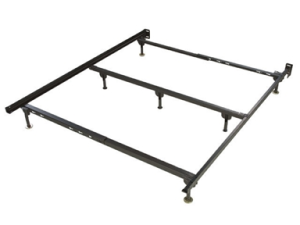 How and why do I rotate my bedding? How do I avoid body impressions in my mattress? How do I maintain consistent comfort and feel throughout the life of my bedding?
First, it's important to note that body impressions on a mattress are normal, and not an indication that your mattress is defective. We recommend that you rotate your mattress on a regular basis to refresh its comfort. Mattresses contain many layers of upholstery padding to increase their comfort life and support performance. Body indentations are a normal occurrence in new mattresses, and indicate that the upholstery layers are conforming to a person's individual body contours. To help minimize body impressions, mattresses should be turned occasionally throughout their life. For convenience, we have illustrated below the best method.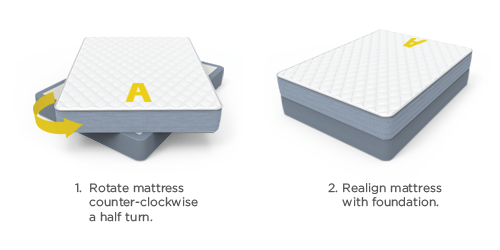 How do I care for my mattress?
Keep your mattress clean. We suggest using a mattress pad; please visit Bed Bath & Beyond to see our selection of Therapedic mattress pads available exclusively at Bed Bath & Beyond. Don't allow your mattress to get wet. Protect it from water or other liquids. Don't use dry cleaning fluid of any type on your mattress. These chemicals could damage some of the comfort and upholstery materials.
How do I clean my mattress?
Keeping your bedding clean is simple with the use of a protective mattress pad. Vacuuming is the only recommended cleaning method. If you must clean a stain, use mild soap with cold water and apply lightly. Don't ever soak a mattress.