All things being equal, getting a good night's sleep on a quality mattress is critical to enjoying a productive and happy day. However, it's often the "extras," bed accessories, that provide added comfort and support, as well as bring a smile to your face.
In honor of "National Make Your Bed Day," here are 5 categories of bed accessories to increase your comfort and bring you joy.
1. Pillows for Support and Bed Decor
The right pillow will provide necessary support and spinal alignment. You may have a traditional pillow you love, a soft place to rest your head while sleeping.  Consider supplementing with a neck roll pillow to take away pressure and unwanted kinks or a body pillow for additional comfort. There are many options to help you rest well, pillows that add dimension and a decorative touch to your bed.
2. Printed Flannel Sheets and Pillowslips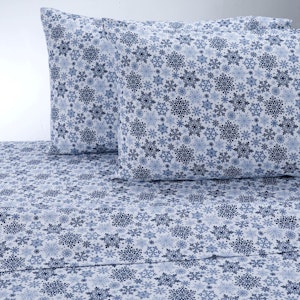 As fall and winter arrive, outfit your bed with a cheerful flannel sheet set to deliver design and warmth to you, your comforter, quilt or duvet.
3. Plush Blankets and Throws
Do plummeting temperatures leave you chilly at bedtime? Bring color and texture to your bedroom with a snuggly temperature controlled warming blanket. Several of these blankets and throws feature wireless remote and/or dual control settings to guarantee both you and your honey get a good night's sleep. Fabrics available include quilted poly/cotton, sherpa, and faux fur.  
Weighted blankets or throws relieve stress and can help you sleep better. Machine-washable weighted blankets contain small glass pellets that deliver the soothing pressure of a body massage.  Fortunately, there are many options available. Consider the optimum weight for you and if you need a "cooling" blanket to suit your sleep needs.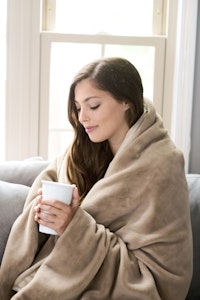 4. Heated and Weighted Wraps
Aching, cold muscles need relief. A versatile electric heated wrap is just the thing for soothing your shoulders, core or legs while you read in bed. Leave this as a throw on your bed for a burst of color or when you'd prefer warmth across your legs and feet: This wrap easily converts to serve your needs.
Should a weighted wrap, vest or neck pillow be best for your needs, these weighted items are available to keep bedside.
5. Delightful Bedside Table Accompaniments
While the emphasis here is on bed accessories, a well-done bedside table can complete the look.  On your table place a set of essential oils and an oil diffuser for releasing the healing benefits of the oil into the air you breathe. Four different kinds of diffusers — nebulizing, ultrasonic, evaporative and heat – provide choices for what works best for your needs. Adding an  eye-catching three-way lamp to your table top offers lighting options of very bright for reading to low as you ease yourself towards sleep. 
On National Make Your Bed Day, celebrate your bedroom by adding color, texture, design and comfort to the centerpiece of your evening retreat, your bed. You may find yourself smiling more as bedtime approaches!