Cool Drinks for Hot Summer Days
Hot summer days call for cool drinks. With plenty of opportunities for outdoor gatherings and Independence Day celebration coming up, the social team at Therapedic has some great Fourth of July-themed suggestions to wet your whistle.
GIN AND TONIC WITH FRESH WATERMELON
A "red" riff on the classic G&T this cocktail adds a burst of summer with fresh watermelon.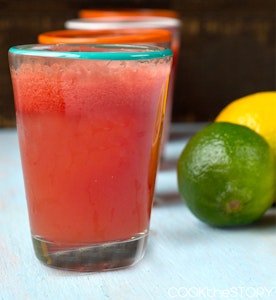 INGREDIENTS:
3 pounds watermelon, about ¼ of a medium sized watermelon
2 Tbsp. lime juice
1 Tbsp. lemon juice
1 oz gin
2 oz tonic, cold
INSTRUCTIONS:
Remove the rind from the watermelon and discard. Puree the pink flesh. Strain it through a fine mesh sieve to remove pulp, being sure to capture all the juice that drips through. Discard the pulp. You should have about 2 cups of watermelon juice.
To the watermelon juice add the lime juice and lemon juice. Taste. You want a bit of sour to come through. If necessary, add another tablespoon of lemon juice. Chill the juice.
The watermelon citrus juice is enough to make five drinks. For each drink pour 1 oz gin, 2 oz tonic and 3 oz of the watermelon citrus juice into a tall glass. Add a few ice cubes.
Recipe featured on Cook the Story
---
SPARKLING CUCUMBER LIMEADE (NON-ALCOHOLIC)
Sweet and sour, when this "white" limeade is infused with cucumber, mint and combined with sparkling water it makes for a refreshing summer drink.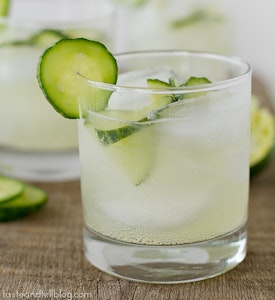 INGREDIENTS:
1 c sugar
1 Tbsp lime zest
1 c water
¼ c fresh mint leaves
1 c lime juice
1 medium English cucumber, halved and thinly sliced
2 c sparkling water, chilled
INSTRUCTIONS:
Combine the sugar, lime zest and water in a medium saucepan over medium heat. Bring to a simmer, stirring constantly, until the sugar is dissolved. Remove from the heat and stir in the mint leaves. Let sit for 30 minutes.
Strain the lime syrup through a fine mesh sieve. Combine the syrup with the lime juice and cucumber. Refrigerate for at least 1 hour. When ready to serve, add in the sparkling water. Serve over ice.
Recipe featured on Taste and Tell Blog
---
ROYAL BLUE COCKTAIL
This blue fruit punch is cool and colorful – but made for adults only.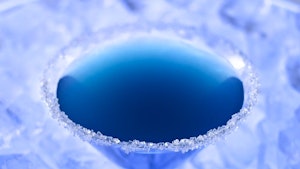 Photo credit: BettyCrocker.com
INGREDIENTS:
Lime wedge
Coarse sugar or granulated sugar
Ice cubes
¼ c cranberry juice cocktail
1 oz citron vodka or vodka
1 oz blue curacao
1 Tbsp fresh lime juice
INSTRUCTIONS:
Moisten rim of chilled martini glass with lime wedge. Sprinkle sugar onto small plate, and dip moistened rim into the sugar to coat lightly.
Fill cocktail shaker with ice. Add cranberry juice, vodka, curacao and lime juice; cover and shake. Strain into martini glass.
Recipe featured on Betty Crocker