Thanksgiving weekend ushers in holiday decorating – a joyful tradition for many families but one that can put the furry family members at risk if we don't exercise pet safety tips for this time of year.
In the rush to make everything merry and bright, we may place enticing scents, textures and tastes in the paths of our pets. Decorations and human treats can present toxic dangers to cats and dogs when ingested.
To avoid harrowing trips to the veterinary ER, we offer the top five things to keep in mind for creating pet-friendly holidays.
Rock Around Your Christmas Tree… but No Tree Rocking!
Secure your tree in a stand to keep it from tipping over, possibly injuring your pet and spilling stagnant water that can cause upset stomach if mopped up by a thirsty tongue. The ideal tree location is a corner close to an outlet. The corner provides security if the tree falls, and the close outlet keeps light wires out of the way. Consider where you place ornaments, too. Shards of broken decorations cause harm to your pet's mouth and digestive tract.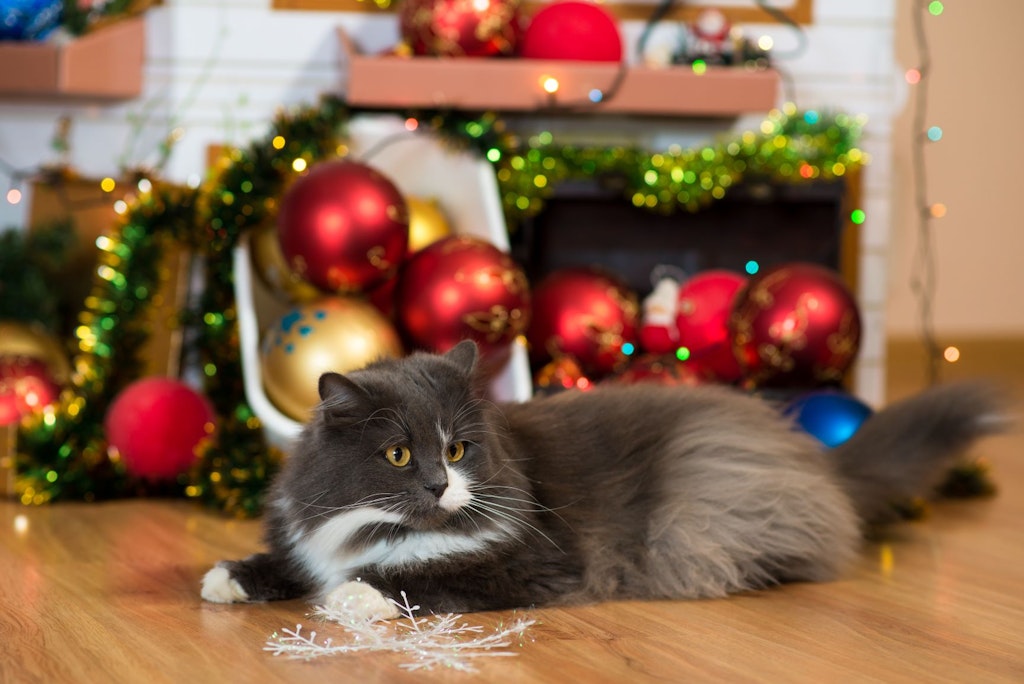 Decorating in high places is sound advice unless you have curious, agile cats. For the sake of feline companions, sacrifice the glint of tinsel on the tree. If your cat eats it, you could be paying for pricey abdominal surgery.
Time for Mistletoe and Holly
Follow the tradition of hanging mistletoe high, as it is poisonous to pets.  Holly:  So festive, the red and green, but a digestive nightmare for your pets.  Also, steer clear of lilies which can cause kitty's kidneys to fail.
On a happier, practical note, silk flowers and greenery bring a safe beauty to your home. A stroll through your local crafts store may lead to inspiring sprigs or bouquets.
Remember to place lit candles high (our recurring decorating mantra!) and to blow them out when you leave the room.  Cover simmering potpourri.
Wrap It Up!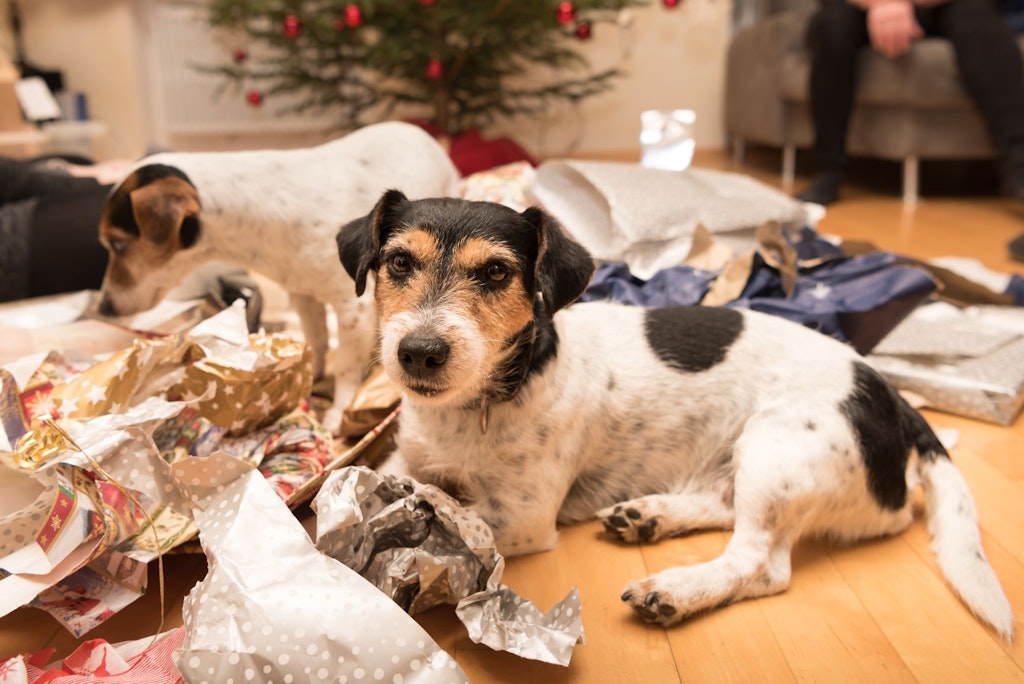 Like tinsel, glittery ribbon and pretty paper can tempt and harm our pets. Once presents are wrapped or opened, clean up thoroughly and make sure the trash can lid is on tight.
Bring Me Some Figgy Pudding… or Not!
When the holiday table brims with delicious foods, our holiday cheer might allow us to indulge loyal pets too. Stay strong: don't feed meat scraps that lead to pancreatitis or bones that break into shards. Instead, treat your puppy to a Kong stuffed with peanut butter. Your kitty may enjoy a catnip toy.
Desserts are the best part of the meal, if you are a human, that is. Hypoglycemia and liver failure may happen if dogs ingest xylitol, a natural sweetener. Keep all holiday chocolates and treats wrapped and at the back of your kitchen counter or stowed away from the more cunning pets.
Finally, enjoy your holiday cocktails but make sure your guests don't leave their drinks unattended. Alcohol is no friend to our pets.
A Heavenly Peace
The hullaballoo in your holiday house, while delighting your human guests, may be too much for your furry babes. Especially as New Year's Eve noisemakers and fireworks approach, give your pets a quiet room to snuggle comfortably with a blanket or in a soft bed.
Cheers to all for a joyful and safe holiday season!